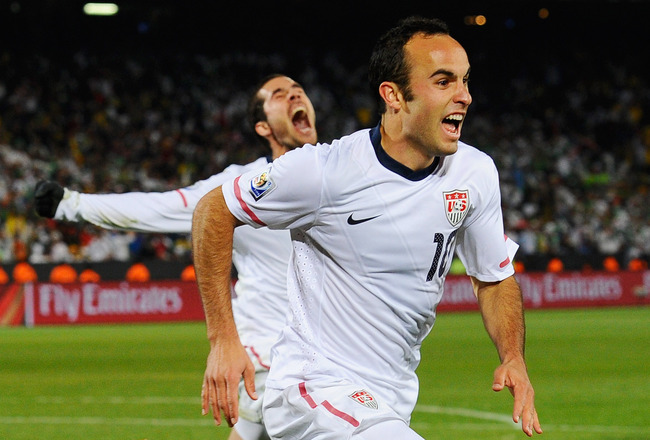 In this moment, the world belonged to Donovan
It's been a long time since I weighed in on anything in American soccer.
You can go back to an old post where I explained it all.
When my brother was named coach of the U.S. national team back in 2007, I told my bosses at ESPN The Magazine that I had to leave the beat I'd worked since 1998. I did not feel I could be impartial any longer. I also did not think it would have been right to be poking my nose inside the locker room my brother was trying to command.
When I look at all the conflicts-of-interest in place at the Worldwide Leader, sometimes I wonder if what I did was necessary. I've heard Jeff Van Gundy commenting on his brother's work. Dick Vitale may not be brothers with any of the college basketball coaches he covers, but he has let it be known over a long and profitable career that there are certain guys he won't criticize.
I know what I did was the right thing. But I do wonder if it was necessary.
Which brings me to this blog post, where I will jump back in on American soccer, and offer up my thoughts on Landon Donovan, who, as we all know, is on a sabbatical from soccer.
Back in 2006, before the World Cup in Germany,
I wrote about Landon for ESPN The Magazine.
He met me at a sushi place in his neighborhood in Southern California and we chatted. When the dinner/interview was over, I could not help but feel I'd just spent time with the most honest, open athlete I had ever met in two decades in the sportswriting business. He had no problems talking about himself -- something that makes many athletes uneasy -- at length, not just talking about his strengths (he said he believed he was one of the best players in the world), but also his weaknesses (he talked about problems he had with his dad). Mostly, he talked about his overall need to be happy.
Bruce Arena, then the national team coach, backed him up, saying, "I like Landon when he's happy. Because that's when he plays his best soccer."
Just to back up a second. When Landon was 16, I met him down in Florida and wrote a short piece about him for The Mag. He was headed to Bayer Leverkusen and being called "The American Michael Owen." He was painfully shy during that interview. He was a kid. So, to see his evolution into manhood that night in So. Cal was a cool moment for a middle-aged sportswriter and dad.
It was easy to see Landon was a really good person.
I wrote my story, turned it in, and got blasted by my boss. Apparently, he'd been reading the wonderful soccer message boards, or had been clued-in to them, I don't know, but he was all over the "Landon is a pussy" theme and wondered why I didn't go hard after that angle. Any American soccer fans knows the "Landon is a pussy theme." He didn't like it in Germany, settled in MLS, tried to go back to Germany and didn't like it all over again. My boss heard about "Landycakes" and was miffed that I did not take him to task for all the accusations being made by anonymous soccer fans.
My defense was that Landon, to that point, had never let the US national team down in any way. He had been brilliant in the 2002 World Cup. He had played very well during qualifying for 2006. I also pointed out that he was an attacking player and attacking players needed to attack. I argued that maybe it was better that our best attacking player play on a team where he is the one who is expected to create chances and score goals and that, perhaps, in Germany he'd be lower on the totem pole and would not have the chance to develop those skills properly. That was my defense.
Then came the '06 World Cup, and things did not go well for Donovan. He did not set up any goals for a U.S. team that lost two games and tied one (impressively vs. Italy, the eventual champions).
In true Donovan form, he shared his inner feelings about his performance, that he didn't play with confidence, that he didn't play as aggressively as he should have.
When I got home from the World Cup, my boss all but jabbed a finger in my chest, pointing out how I'd botched the Donovan piece. At that point, I had no defense. The proof was in his performance.
I guess.
So, let's get this tale back to the present. As you know, Donovan got things right in the 2010. Even in the eyes of his most severe critics, he got things right. He did his usual great things for the LA Galaxy, but also went to Everton on loan and played well. At the World Cup, he rescued the US twice during group play, scoring a critical goal in the come-from-behind draw with Slovenia and the last-gasp winner against Algeria, which got the U.S. into the second round.
He cried on camera and told his soon-to-be-ex-wife he loved her. All vintage Donovan. All part of the package American fans had come to know, to love and hate, since he became a part of the team.
But as the U.S. left South Africa after falling, 2-1, in extra time to Ghana, I could not help but feel that the next US coach, be it my brother or somebody else, was going to have his hands full trying to get another World Cup cycle out of the greatest attacking player our country has ever produced.
I just sensed that all the emotional stuff was taking its toll. Some athletes bear the burden of expectations better than others. I've covered Yankee shortstop Derek Jeter for many years and the thing that's always struck me is how in the most trying times his eyes seem the brightest. It's like Jeter truly believes the big games, the big pressure, the bright spotlight is actually...the most fun.
Is this true? How do I know? Jeter is the anti-Donovan. He rarely lets anyone inside his head. All I go by is the look on his face. I've never seen Jeter look down, or glum, or tired on the biggest stages.
I think we've all seen the wear and tear on Donovan.
And so last night, Donovan spoke to students at USC and he spoke about so many things...and one of the students (@xman818) chronicled it all on Twitter.
Donovan spoke about how soccer is a very small part of who he really is. He spoke about overcoming some of the problems he had with his dad. He spoke about things that broke up his marriage. He spoke about how he cares only about being a good person and is going to Cambodia in 10 days to do something that's not religious, but sounded kind of spiritual.
Every single word out of his mouth was real, and admirable. I hate ever making character judgments on any athletes I write about, but I do believe Landon Donovan is, in fact, a really good person.
Now, how about the soccer part?
Understand, first of all, like Donovan, most soccer players would tell you that the game is not the most important thing in their life. This is not only sound thinking, this is logical and healthy.
Soccer is, after all, just a game.
However, what our soccer-obsessed side needs to keep an eye on is this:
When Donovan puts his soccer shoes back on in late March, will he be able to make the game the most important part of his life. Not the most important part of his life 24 hours a day, 365 days a year. But the most important part of his life when he's actually playing soccer, or practicing soccer, or being a teammate in the locker room. This is called "focus" and it is required of all athletes. Talk to any sports psychologist and he'll talk about looking through the smallest window. Eliminate all the distractions and lock-in on something small. It's a challenge. A freaking huge challenge.
No one should begrudge Landon for being Landon. In fact, at this point, given what Donovan's produced for U.S. Soccer for the last dozen years, we should love and respect the person he is.
My former boss who hammered me for not going with the "Landon is a pussy" theme back before the 2006 World Cup...dude was wrong then and he's even more wrong today. He's proved his toughness.
But if Landon Donovan still has more to give to the US national team once this sabbatical is over, he's going to have to prove it all over again. Not to us, the public, but to his teammates. If he's distracted, they'll notice. If he's not all-in when he returns (and he will return), it won't sit well.
That's my guess. Just me weighing in, for the first time in a while.